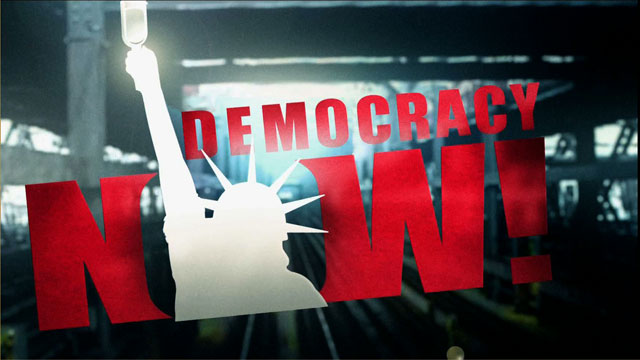 In Michigan, election officials in the state's largest county certified Joe Biden's victory Tuesday night after a dramatic reversal. The two white Republicans on the Wayne County Board of Canvassers initially blocked certification, saying they did not want to include votes from Detroit, which overwhelmingly supported Biden. President Trump then took to Twitter to praise the Republican effort, saying, "Having courage is a beautiful thing. The USA stands proud!" Rev. Wendell Anthony, the president of the NAACP in Detroit, criticized the Republican efforts to disenfranchise votes in Detroit.
Rev. Wendell Anthony: "You have extracted a Black city out of a county and said the only ones that are at fault or at issue is the city of Detroit, where 80% of the people who reside here are African Americans. Shame on you! Shame on you! … You are a disgrace as relates to the ability to have a free and impartial election in this nation."
Ned Staebler, a vice president at Wayne State University, also criticized the Republicans on the Wayne County Board of Canvassers.
Ned Staebler: "I just want to let you know that the Trump stink, the stain of racism that you, William Hartmann and Monica Palmer, have just covered yourself in, is going to follow you throughout history. Your grandchildren are going to think of you like Bull Connor or George Wallace."
Print
Share
Comment
Cite
Upload
Translate
APA
Democracy Now | Just another WordPress site (2022-01-22T21:40:35+00:00) » Headlines for November 18, 2020. Retrieved from https://www.museumpirates.com/2020/11/18/headlines-for-november-18-2020/.
MLA
" » Headlines for November 18, 2020." Democracy Now | Just another WordPress site - Wednesday November 18, 2020, https://www.museumpirates.com/2020/11/18/headlines-for-november-18-2020/
HARVARD
Democracy Now | Just another WordPress site Wednesday November 18, 2020 » Headlines for November 18, 2020., viewed 2022-01-22T21:40:35+00:00,<https://www.museumpirates.com/2020/11/18/headlines-for-november-18-2020/>
VANCOUVER
Democracy Now | Just another WordPress site - » Headlines for November 18, 2020. [Internet]. [Accessed 2022-01-22T21:40:35+00:00]. Available from: https://www.museumpirates.com/2020/11/18/headlines-for-november-18-2020/
CHICAGO
" » Headlines for November 18, 2020." Democracy Now | Just another WordPress site - Accessed 2022-01-22T21:40:35+00:00. https://www.museumpirates.com/2020/11/18/headlines-for-november-18-2020/
IEEE
" » Headlines for November 18, 2020." Democracy Now | Just another WordPress site [Online]. Available: https://www.museumpirates.com/2020/11/18/headlines-for-november-18-2020/. [Accessed: 2022-01-22T21:40:35+00:00]
rf:citation
» Headlines for November 18, 2020 | Democracy Now | Just another WordPress site | https://www.museumpirates.com/2020/11/18/headlines-for-november-18-2020/ | 2022-01-22T21:40:35+00:00
https://github.com/addpipe/simple-recorderjs-demo