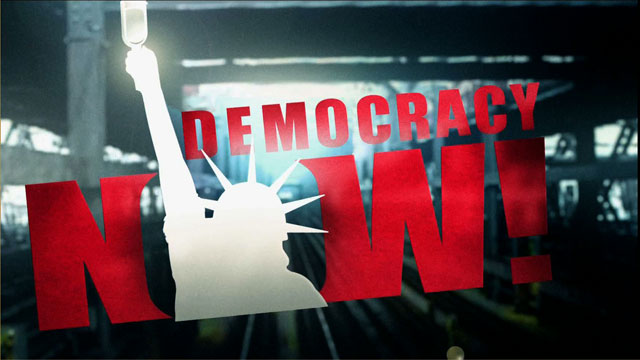 The Department of Homeland Security is warning of a heightened threat posed by "ideologically-motivated violent extremists" angry over Joe Biden's inauguration and "fueled by false narratives" — a clear reference to former President Trump's lies about a stolen election. The National Terrorism Advisory System bulletin came as federal prosecutors announced indictments against three members of the far-right paramilitary group Oath Keepers for conspiring to obstruct Congress during the January 6 insurrection at the Capitol. All three are U.S. military veterans.
Separately, federal agents have arrested Robert Lemke, a former Air Force captain from California, who sent death threats to the families of Democratic Congressmember Hakeem Jeffries and journalist George Stephanopoulos during the Capitol riot.
Elsewhere in California, the FBI arrested 44-year-old Ian Rogers in Napa County for allegedly plotting attacks on prominent Democrats and Twitter. An FBI affidavit says Rogers had dozens of weapons, thousands of rounds of ammunition and five pipe bombs.
Meanwhile, Washington, D.C.'s acting police chief told Congress that two police officers have died by suicide since the January 6 insurrection at the Capitol. The second death — of a D.C. Metropolitan Police officer — had not previously been reported. A third officer, Brian Sicknick, died January 7 after he was attacked by the mob.
Print
Share
Comment
Cite
Upload
Translate
APA
Democracy Now | Just another WordPress site (2021-06-18T07:43:35+00:00) » Headlines for January 28, 2021. Retrieved from https://www.museumpirates.com/2021/01/28/headlines-for-january-28-2021/.
MLA
" » Headlines for January 28, 2021." Democracy Now | Just another WordPress site - Thursday January 28, 2021, https://www.museumpirates.com/2021/01/28/headlines-for-january-28-2021/
HARVARD
Democracy Now | Just another WordPress site Thursday January 28, 2021 » Headlines for January 28, 2021., viewed 2021-06-18T07:43:35+00:00,<https://www.museumpirates.com/2021/01/28/headlines-for-january-28-2021/>
VANCOUVER
Democracy Now | Just another WordPress site - » Headlines for January 28, 2021. [Internet]. [Accessed 2021-06-18T07:43:35+00:00]. Available from: https://www.museumpirates.com/2021/01/28/headlines-for-january-28-2021/
CHICAGO
" » Headlines for January 28, 2021." Democracy Now | Just another WordPress site - Accessed 2021-06-18T07:43:35+00:00. https://www.museumpirates.com/2021/01/28/headlines-for-january-28-2021/
IEEE
" » Headlines for January 28, 2021." Democracy Now | Just another WordPress site [Online]. Available: https://www.museumpirates.com/2021/01/28/headlines-for-january-28-2021/. [Accessed: 2021-06-18T07:43:35+00:00]
rf:citation
» Headlines for January 28, 2021 | Democracy Now | Just another WordPress site | https://www.museumpirates.com/2021/01/28/headlines-for-january-28-2021/ | 2021-06-18T07:43:35+00:00
https://github.com/addpipe/simple-recorderjs-demo