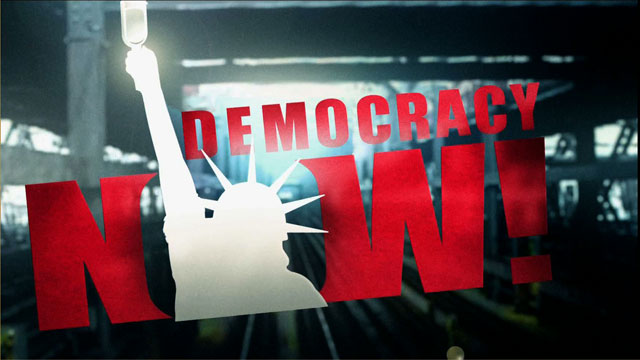 The United States recorded nearly 80,000 new coronavirus infections Thursday and 1,000 deaths from COVID-19. Michigan remains the hardest-hit state, but new hot spots are emerging in the Northeast, Texas and parts of the Upper Midwest.
In North Carolina, health officials shut down a mass vaccination site Thursday after several patients had immediate adverse reactions to shots of Johnson & Johnson's COVID-19 vaccine. This follows similar reports of nausea and dizziness in people who received J&J doses in Colorado a day earlier.
Johnson & Johnson said Thursday it will drastically reduce its deliveries of its vaccine around the U.S. next week, after one of its contractors, Emergent BioSolutions, said 15 million doses at a Baltimore plant were contaminated and needed to be thrown out. The White House has since ordered Johnson & Johnson to take charge of the plant. One in four U.S. adults is now fully vaccinated against COVID-19.
Print
Share
Comment
Cite
Upload
Translate
APA
Democracy Now | Just another WordPress site (2021-06-17T20:21:16+00:00) » Headlines for April 9, 2021. Retrieved from https://www.museumpirates.com/2021/04/09/headlines-for-april-9-2021/.
MLA
" » Headlines for April 9, 2021." Democracy Now | Just another WordPress site - Friday April 9, 2021, https://www.museumpirates.com/2021/04/09/headlines-for-april-9-2021/
HARVARD
Democracy Now | Just another WordPress site Friday April 9, 2021 » Headlines for April 9, 2021., viewed 2021-06-17T20:21:16+00:00,<https://www.museumpirates.com/2021/04/09/headlines-for-april-9-2021/>
VANCOUVER
Democracy Now | Just another WordPress site - » Headlines for April 9, 2021. [Internet]. [Accessed 2021-06-17T20:21:16+00:00]. Available from: https://www.museumpirates.com/2021/04/09/headlines-for-april-9-2021/
CHICAGO
" » Headlines for April 9, 2021." Democracy Now | Just another WordPress site - Accessed 2021-06-17T20:21:16+00:00. https://www.museumpirates.com/2021/04/09/headlines-for-april-9-2021/
IEEE
" » Headlines for April 9, 2021." Democracy Now | Just another WordPress site [Online]. Available: https://www.museumpirates.com/2021/04/09/headlines-for-april-9-2021/. [Accessed: 2021-06-17T20:21:16+00:00]
rf:citation
» Headlines for April 9, 2021 | Democracy Now | Just another WordPress site | https://www.museumpirates.com/2021/04/09/headlines-for-april-9-2021/ | 2021-06-17T20:21:16+00:00
https://github.com/addpipe/simple-recorderjs-demo