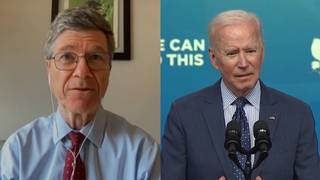 As Democrats and Republicans in Washington continue to negotiate over an infrastructure bill, President Biden is reportedly considering dropping his demand to roll back the 2017 Trump tax cuts — which primarily benefited corporations and the richest people in the country — in order to gain support for infrastructure spending of at least $1 trillion. Biden is offering to keep Trump's tax cuts and shrink the size of his infrastructure proposal in exchange for a minimum 15% corporate tax rate for all companies. Economist Jeffrey Sachs says a capitulation on the Trump tax cuts would be a huge mistake for the Biden administration. "The corporations have had an unbelievable run of unjust and affordable tax cuts," he says.

This content originally appeared on Democracy Now! and was authored by Democracy Now!.

Print
Share
Comment
Cite
Upload
Translate
APA
Democracy Now! | Just another WordPress site (2021-12-03T04:33:42+00:00) » "We Are a Plutocracy": Jeffrey Sachs Slams Biden for Offering to Preserve Trump's Corporate Tax Cuts. Retrieved from https://www.museumpirates.com/2021/06/04/we-are-a-plutocracy-jeffrey-sachs-slams-biden-for-offering-to-preserve-trumps-corporate-tax-cuts/.
MLA
" » "We Are a Plutocracy": Jeffrey Sachs Slams Biden for Offering to Preserve Trump's Corporate Tax Cuts." Democracy Now! | Just another WordPress site - Friday June 4, 2021, https://www.museumpirates.com/2021/06/04/we-are-a-plutocracy-jeffrey-sachs-slams-biden-for-offering-to-preserve-trumps-corporate-tax-cuts/
HARVARD
Democracy Now! | Just another WordPress site Friday June 4, 2021 » "We Are a Plutocracy": Jeffrey Sachs Slams Biden for Offering to Preserve Trump's Corporate Tax Cuts., viewed 2021-12-03T04:33:42+00:00,<https://www.museumpirates.com/2021/06/04/we-are-a-plutocracy-jeffrey-sachs-slams-biden-for-offering-to-preserve-trumps-corporate-tax-cuts/>
VANCOUVER
Democracy Now! | Just another WordPress site - » "We Are a Plutocracy": Jeffrey Sachs Slams Biden for Offering to Preserve Trump's Corporate Tax Cuts. [Internet]. [Accessed 2021-12-03T04:33:42+00:00]. Available from: https://www.museumpirates.com/2021/06/04/we-are-a-plutocracy-jeffrey-sachs-slams-biden-for-offering-to-preserve-trumps-corporate-tax-cuts/
CHICAGO
" » "We Are a Plutocracy": Jeffrey Sachs Slams Biden for Offering to Preserve Trump's Corporate Tax Cuts." Democracy Now! | Just another WordPress site - Accessed 2021-12-03T04:33:42+00:00. https://www.museumpirates.com/2021/06/04/we-are-a-plutocracy-jeffrey-sachs-slams-biden-for-offering-to-preserve-trumps-corporate-tax-cuts/
IEEE
" » "We Are a Plutocracy": Jeffrey Sachs Slams Biden for Offering to Preserve Trump's Corporate Tax Cuts." Democracy Now! | Just another WordPress site [Online]. Available: https://www.museumpirates.com/2021/06/04/we-are-a-plutocracy-jeffrey-sachs-slams-biden-for-offering-to-preserve-trumps-corporate-tax-cuts/. [Accessed: 2021-12-03T04:33:42+00:00]
rf:citation
» "We Are a Plutocracy": Jeffrey Sachs Slams Biden for Offering to Preserve Trump's Corporate Tax Cuts | Democracy Now! | Just another WordPress site | https://www.museumpirates.com/2021/06/04/we-are-a-plutocracy-jeffrey-sachs-slams-biden-for-offering-to-preserve-trumps-corporate-tax-cuts/ | 2021-12-03T04:33:42+00:00
https://github.com/addpipe/simple-recorderjs-demo