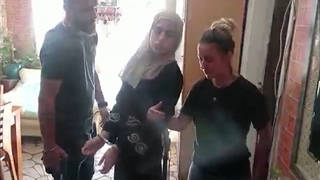 Israel is cracking down on Palestinians living in the occupied West Bank, occupied East Jerusalem and inside Israel amid the ongoing ceasefire between Israel and Gaza. Israeli police have arrested nearly 2,000 Palestinians over the past month in an attempt to quell protests and uprisings against the occupation, according to the newspaper Haaretz. "Israel is criminalizing our right to say we're Palestinian, our right to say we want to live in our homes in dignity, our right to be free," says Mariam Barghouti, a Palestinian writer and researcher.

This content originally appeared on Democracy Now! and was authored by Democracy Now!.

Print
Share
Comment
Cite
Upload
Translate
APA
Democracy Now! | Just another WordPress site (2022-01-27T23:37:03+00:00) » Sheikh Jarrah Residents Face Legal Defeat; Israel Arrests Thousands of Palestinians to Quell Dissent. Retrieved from https://www.museumpirates.com/2021/06/07/sheikh-jarrah-residents-face-legal-defeat-israel-arrests-thousands-of-palestinians-to-quell-dissent/.
MLA
" » Sheikh Jarrah Residents Face Legal Defeat; Israel Arrests Thousands of Palestinians to Quell Dissent." Democracy Now! | Just another WordPress site - Monday June 7, 2021, https://www.museumpirates.com/2021/06/07/sheikh-jarrah-residents-face-legal-defeat-israel-arrests-thousands-of-palestinians-to-quell-dissent/
HARVARD
Democracy Now! | Just another WordPress site Monday June 7, 2021 » Sheikh Jarrah Residents Face Legal Defeat; Israel Arrests Thousands of Palestinians to Quell Dissent., viewed 2022-01-27T23:37:03+00:00,<https://www.museumpirates.com/2021/06/07/sheikh-jarrah-residents-face-legal-defeat-israel-arrests-thousands-of-palestinians-to-quell-dissent/>
VANCOUVER
Democracy Now! | Just another WordPress site - » Sheikh Jarrah Residents Face Legal Defeat; Israel Arrests Thousands of Palestinians to Quell Dissent. [Internet]. [Accessed 2022-01-27T23:37:03+00:00]. Available from: https://www.museumpirates.com/2021/06/07/sheikh-jarrah-residents-face-legal-defeat-israel-arrests-thousands-of-palestinians-to-quell-dissent/
CHICAGO
" » Sheikh Jarrah Residents Face Legal Defeat; Israel Arrests Thousands of Palestinians to Quell Dissent." Democracy Now! | Just another WordPress site - Accessed 2022-01-27T23:37:03+00:00. https://www.museumpirates.com/2021/06/07/sheikh-jarrah-residents-face-legal-defeat-israel-arrests-thousands-of-palestinians-to-quell-dissent/
IEEE
" » Sheikh Jarrah Residents Face Legal Defeat; Israel Arrests Thousands of Palestinians to Quell Dissent." Democracy Now! | Just another WordPress site [Online]. Available: https://www.museumpirates.com/2021/06/07/sheikh-jarrah-residents-face-legal-defeat-israel-arrests-thousands-of-palestinians-to-quell-dissent/. [Accessed: 2022-01-27T23:37:03+00:00]
rf:citation
» Sheikh Jarrah Residents Face Legal Defeat; Israel Arrests Thousands of Palestinians to Quell Dissent | Democracy Now! | Just another WordPress site | https://www.museumpirates.com/2021/06/07/sheikh-jarrah-residents-face-legal-defeat-israel-arrests-thousands-of-palestinians-to-quell-dissent/ | 2022-01-27T23:37:03+00:00
https://github.com/addpipe/simple-recorderjs-demo