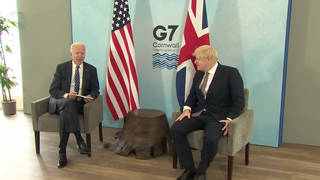 As world leaders gather for the first in-person G7 summit in two years, talks are set to focus heavily on ending the pandemic and the climate crisis, and climate activists are calling on them for more immediate action. "It's not just one crisis," says Asad Rehman, executive director of War on Want and spokesperson for the COP26 Climate Coalition. "What we've seen is simply rich countries doing too little too late and not taking up their responsibility, and unfortunately this G7 has not changed that at all."

This content originally appeared on Democracy Now! and was authored by Democracy Now!.

Print
Share
Comment
Cite
Upload
Translate
APA
Democracy Now! | Just another WordPress site (2022-01-28T05:27:01+00:00) » "Our House Is on Fire": Activists Urge G7 to Immediately Address Climate, Vaccine Apartheid & Poverty. Retrieved from https://www.museumpirates.com/2021/06/11/our-house-is-on-fire-activists-urge-g7-to-immediately-address-climate-vaccine-apartheid-poverty/.
MLA
" » "Our House Is on Fire": Activists Urge G7 to Immediately Address Climate, Vaccine Apartheid & Poverty." Democracy Now! | Just another WordPress site - Friday June 11, 2021, https://www.museumpirates.com/2021/06/11/our-house-is-on-fire-activists-urge-g7-to-immediately-address-climate-vaccine-apartheid-poverty/
HARVARD
Democracy Now! | Just another WordPress site Friday June 11, 2021 » "Our House Is on Fire": Activists Urge G7 to Immediately Address Climate, Vaccine Apartheid & Poverty., viewed 2022-01-28T05:27:01+00:00,<https://www.museumpirates.com/2021/06/11/our-house-is-on-fire-activists-urge-g7-to-immediately-address-climate-vaccine-apartheid-poverty/>
VANCOUVER
Democracy Now! | Just another WordPress site - » "Our House Is on Fire": Activists Urge G7 to Immediately Address Climate, Vaccine Apartheid & Poverty. [Internet]. [Accessed 2022-01-28T05:27:01+00:00]. Available from: https://www.museumpirates.com/2021/06/11/our-house-is-on-fire-activists-urge-g7-to-immediately-address-climate-vaccine-apartheid-poverty/
CHICAGO
" » "Our House Is on Fire": Activists Urge G7 to Immediately Address Climate, Vaccine Apartheid & Poverty." Democracy Now! | Just another WordPress site - Accessed 2022-01-28T05:27:01+00:00. https://www.museumpirates.com/2021/06/11/our-house-is-on-fire-activists-urge-g7-to-immediately-address-climate-vaccine-apartheid-poverty/
IEEE
" » "Our House Is on Fire": Activists Urge G7 to Immediately Address Climate, Vaccine Apartheid & Poverty." Democracy Now! | Just another WordPress site [Online]. Available: https://www.museumpirates.com/2021/06/11/our-house-is-on-fire-activists-urge-g7-to-immediately-address-climate-vaccine-apartheid-poverty/. [Accessed: 2022-01-28T05:27:01+00:00]
rf:citation
» "Our House Is on Fire": Activists Urge G7 to Immediately Address Climate, Vaccine Apartheid & Poverty | Democracy Now! | Just another WordPress site | https://www.museumpirates.com/2021/06/11/our-house-is-on-fire-activists-urge-g7-to-immediately-address-climate-vaccine-apartheid-poverty/ | 2022-01-28T05:27:01+00:00
https://github.com/addpipe/simple-recorderjs-demo