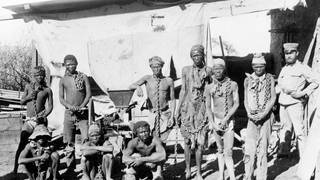 Germany has apologized for its role in the first genocide of the 20th century, which took place in Namibia, a former colony then known as German South West Africa. Between 1904 and 1908, German colonizers killed tens of thousands of Ovaherero and Nama people in Namibia. German Foreign Minister Heiko Maas officially described the massacre as genocide and outlined an offer of more than $1.34 billion in development aid to the Namibian government. The offer was not negotiated with survivors of the genocide, and critics have described it as a pittance. We speak with Nyoko Muvangua, born of the Ovaherero people who were targeted for ethnic cleansing by the German government, and Namibian researcher Emsie Erastus.

This content originally appeared on Democracy Now! and was authored by Democracy Now!.

Print
Share
Comment
Cite
Upload
Translate
APA
Democracy Now! | Just another WordPress site (2021-12-06T00:00:27+00:00) » Why Germany's Apology for Its 1904-1908 Genocide in Namibia Does Not Go Far Enough. Retrieved from https://www.museumpirates.com/2021/06/11/why-germanys-apology-for-its-1904-1908-genocide-in-namibia-does-not-go-far-enough/.
MLA
" » Why Germany's Apology for Its 1904-1908 Genocide in Namibia Does Not Go Far Enough." Democracy Now! | Just another WordPress site - Friday June 11, 2021, https://www.museumpirates.com/2021/06/11/why-germanys-apology-for-its-1904-1908-genocide-in-namibia-does-not-go-far-enough/
HARVARD
Democracy Now! | Just another WordPress site Friday June 11, 2021 » Why Germany's Apology for Its 1904-1908 Genocide in Namibia Does Not Go Far Enough., viewed 2021-12-06T00:00:27+00:00,<https://www.museumpirates.com/2021/06/11/why-germanys-apology-for-its-1904-1908-genocide-in-namibia-does-not-go-far-enough/>
VANCOUVER
Democracy Now! | Just another WordPress site - » Why Germany's Apology for Its 1904-1908 Genocide in Namibia Does Not Go Far Enough. [Internet]. [Accessed 2021-12-06T00:00:27+00:00]. Available from: https://www.museumpirates.com/2021/06/11/why-germanys-apology-for-its-1904-1908-genocide-in-namibia-does-not-go-far-enough/
CHICAGO
" » Why Germany's Apology for Its 1904-1908 Genocide in Namibia Does Not Go Far Enough." Democracy Now! | Just another WordPress site - Accessed 2021-12-06T00:00:27+00:00. https://www.museumpirates.com/2021/06/11/why-germanys-apology-for-its-1904-1908-genocide-in-namibia-does-not-go-far-enough/
IEEE
" » Why Germany's Apology for Its 1904-1908 Genocide in Namibia Does Not Go Far Enough." Democracy Now! | Just another WordPress site [Online]. Available: https://www.museumpirates.com/2021/06/11/why-germanys-apology-for-its-1904-1908-genocide-in-namibia-does-not-go-far-enough/. [Accessed: 2021-12-06T00:00:27+00:00]
rf:citation
» Why Germany's Apology for Its 1904-1908 Genocide in Namibia Does Not Go Far Enough | Democracy Now! | Just another WordPress site | https://www.museumpirates.com/2021/06/11/why-germanys-apology-for-its-1904-1908-genocide-in-namibia-does-not-go-far-enough/ | 2021-12-06T00:00:27+00:00
https://github.com/addpipe/simple-recorderjs-demo