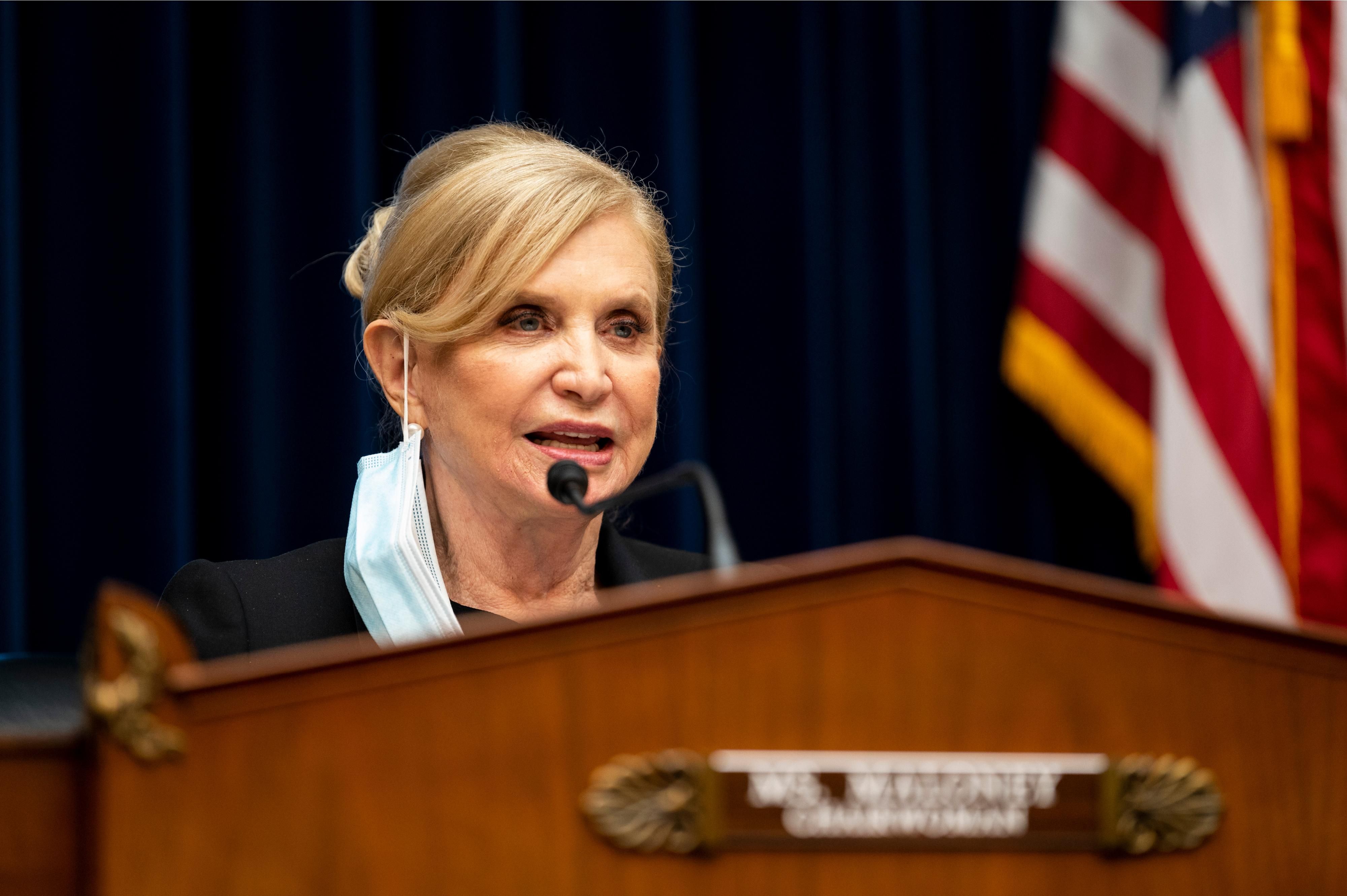 In a surprise move at the end of Thursday's highly anticipated congressional hearing on fossil fuel companies' climate misinformation, the chair of the House Oversight Committee announced she will subpoena four Big Oil corporations and an industry lobby group that she accused of not cooperating with the panel's investigation.
Maloney said she plans to subpoena ExxonMobil, BP, Chevron, Shell, and the American Petroleum Institute (API) to compel them to hand over documents they've withheld concerning the fossil fuel industry's efforts to misinform the public about their causal role in the climate emergency.
"We are at code red for climate and I committed to doing everything I can to help rescue this planet and save it for our children," she said during her closing remarks.
"We need to get to the bottom of the oil industry's disinformation campaign," Maloney added, "and with these subpoenas, we will."
Earlier during Thursday's hearing, Maloney—who said she had draft subpoenas ready to serve—attempted to force executives from the so-called #SlipperySix oil companies to commit to no longer funding opposition to emissions reductions and climate action.
"Unsurprisingly," she said, "no one took the pledge."
In a statement noting the subpoenas, Kyle Herrig, president of watchdog group Accountable.US, called out the industry executives for refusing to force their powerful trade group to stop undermining climate action.
"Time and again, wealthy oil and gas company executives were given opportunities to tell API to stop bankrolling the fight against climate and environmental initiatives they claim to support, but they refused each and every time,"he said.
"These executives spend massive sums of money on feel-good ad campaigns designed to convince consumers their oil and gas companies care about our planet," Herrig added, "but when push comes to shove, they fund API to do their dirty work and endorse its misinformation campaigns with silence."

This content originally appeared on Common Dreams - Breaking News & Views for the Progressive Community and was authored by Brett Wilkins.

Print
Share
Comment
Cite
Upload
Translate
APA
Brett Wilkins | Just another WordPress site (2022-01-27T23:50:19+00:00) » House Dem Announces Subpoenas to 'Get to the Bottom' of Big Oil's Climate Disinformation. Retrieved from https://www.museumpirates.com/2021/10/28/house-dem-announces-subpoenas-to-get-to-the-bottom-of-big-oils-climate-disinformation/.
MLA
" » House Dem Announces Subpoenas to 'Get to the Bottom' of Big Oil's Climate Disinformation." Brett Wilkins | Just another WordPress site - Thursday October 28, 2021, https://www.museumpirates.com/2021/10/28/house-dem-announces-subpoenas-to-get-to-the-bottom-of-big-oils-climate-disinformation/
HARVARD
Brett Wilkins | Just another WordPress site Thursday October 28, 2021 » House Dem Announces Subpoenas to 'Get to the Bottom' of Big Oil's Climate Disinformation., viewed 2022-01-27T23:50:19+00:00,<https://www.museumpirates.com/2021/10/28/house-dem-announces-subpoenas-to-get-to-the-bottom-of-big-oils-climate-disinformation/>
VANCOUVER
Brett Wilkins | Just another WordPress site - » House Dem Announces Subpoenas to 'Get to the Bottom' of Big Oil's Climate Disinformation. [Internet]. [Accessed 2022-01-27T23:50:19+00:00]. Available from: https://www.museumpirates.com/2021/10/28/house-dem-announces-subpoenas-to-get-to-the-bottom-of-big-oils-climate-disinformation/
CHICAGO
" » House Dem Announces Subpoenas to 'Get to the Bottom' of Big Oil's Climate Disinformation." Brett Wilkins | Just another WordPress site - Accessed 2022-01-27T23:50:19+00:00. https://www.museumpirates.com/2021/10/28/house-dem-announces-subpoenas-to-get-to-the-bottom-of-big-oils-climate-disinformation/
IEEE
" » House Dem Announces Subpoenas to 'Get to the Bottom' of Big Oil's Climate Disinformation." Brett Wilkins | Just another WordPress site [Online]. Available: https://www.museumpirates.com/2021/10/28/house-dem-announces-subpoenas-to-get-to-the-bottom-of-big-oils-climate-disinformation/. [Accessed: 2022-01-27T23:50:19+00:00]
rf:citation
» House Dem Announces Subpoenas to 'Get to the Bottom' of Big Oil's Climate Disinformation | Brett Wilkins | Just another WordPress site | https://www.museumpirates.com/2021/10/28/house-dem-announces-subpoenas-to-get-to-the-bottom-of-big-oils-climate-disinformation/ | 2022-01-27T23:50:19+00:00
https://github.com/addpipe/simple-recorderjs-demo