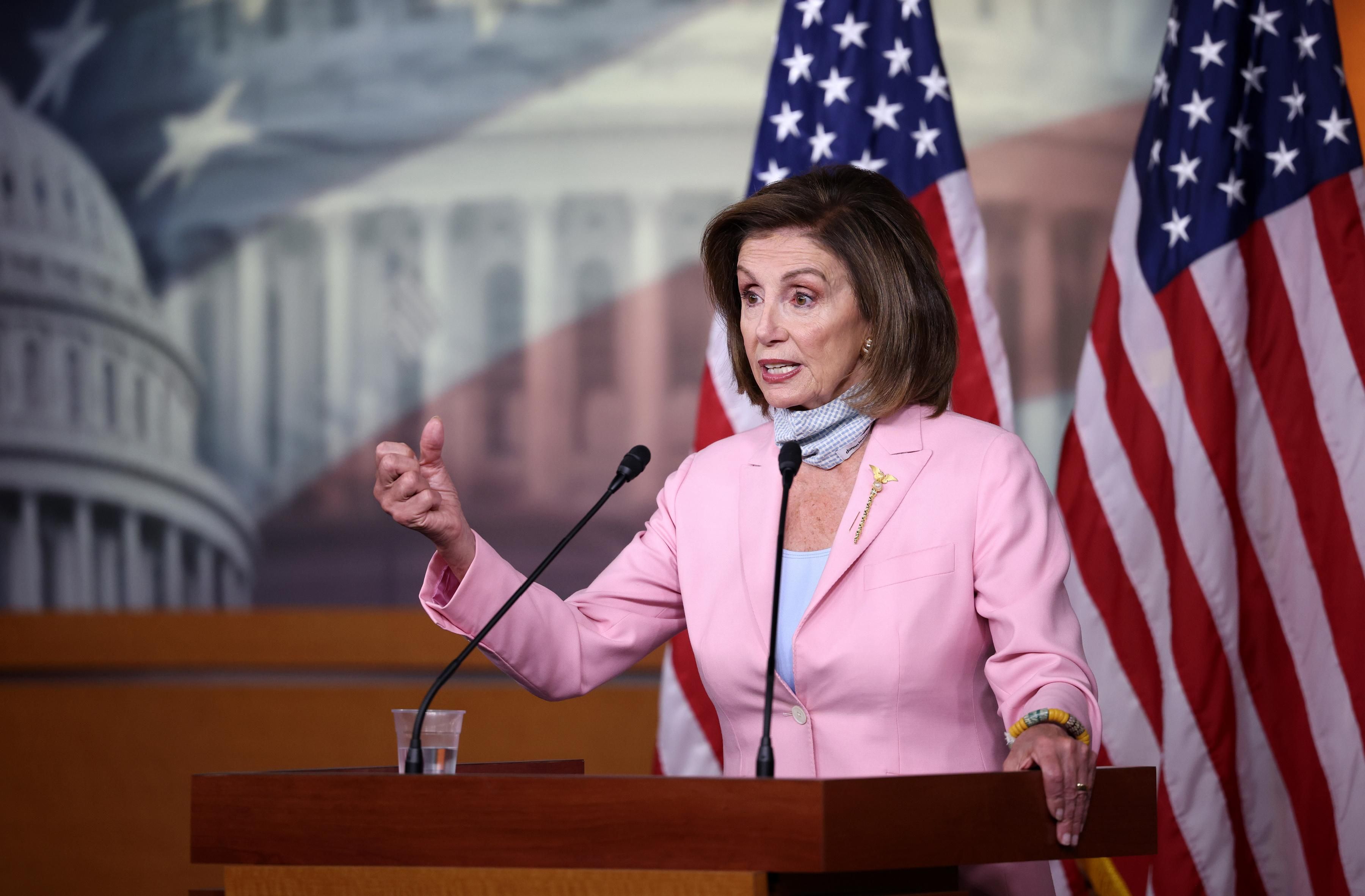 Although right-wing Democratic Sen. Joe Manchin publicly attacked a proposed billionaires' tax almost as soon as it was unveiled, one journalist argued Wednesday that blaming the West Virginia coal baron for shooting down the popular provision is an oversimplification that lets other conservative Democrats—including House Speaker Nancy Pelosi, who reportedly criticized the measure behind closed doors—off the hook.
Just hours after Senate Finance Chair Ron Wyden (D-Ore.) introduced his plan to make a few hundred super-rich tax dodgers pay a fairer share, Manchin threw cold water on the idea, calling it divisive to raise hundreds of billions of dollars to fund expanded public benefits and climate action by "targeting" those with $1 billion in assets or $100 million in annual income for three straight years. That led House Ways and Means Chair Richard Neal (D-Mass.) to declare that congressional support for the proposal is insufficient.
Given that he has done so much to weaken the Build Back Better Act, many believe Manchin alone is responsible for killing the billionaires' tax, but Washington Post columnist Greg Sargent made the case that this emerging narrative ignores the role played by other corporate Democrats.
For example, Pelosi, a multimillionaire from California, "sharply faulted the proposal at a caucus meeting earlier this week, according to a Democratic aide who overheard the remarks," wrote Sargent. "This aide told me Pelosi pronounced it a PR stunt that wouldn't accomplish anything."
"Pelosi absolutely destroyed it," said the aide.
According to Sargent:
Another senior Democratic aide rejected this idea, saying that Pelosi's criticism was confined to the fact that at the time there was no bill text for the proposal. Democrats coalesced around it only in recent days.

"The speaker expressed frustration Monday that there was no text and therefore impossible to score," this aide told me. "The thrust of her comments were about it being too late in the process not to have a codified proposal."
As Common Dreams has reported, the combined net worth of the nation's 745 billionaires skyrocketed by $2.1 trillion over the past year and a half, as millions were devastated by the Covid-19 pandemic and its economic repercussions. Taxing billionaires' unrealized stock gains emerged as a potential revenue-raiser after right-wing Democratic Sen. Kyrsten Sinema (Ariz.)—swimming in campaign cash from Wall Street—single-handedly blew up her party's plan to hike taxes on corporations and wealthy individuals.
Sinema and other Big Pharma-bankrolled Democrats, including Sen. Bob Menendez (N.J.) and Reps. Kathleen Rice (N.Y.), Scott Peters (Calif.), and Kurt Schrader (Ore.), have also undermined a proposal to allow Medicare to negotiate lower prescription drug costs, which would have protected Americans from deadly price-gouging and saved the federal government hundreds of billions of dollars per year—leaving the party scrambling to figure out how to pay for its increasingly anemic reconciliation bill.
Regarding the billionaires' tax, Sargent argued that "other Democrats are waiting in the cloakroom to kill it with no fingerprints."
Neal, for instance, "has questioned whether it will hold up in court. That would dovetail with Pelosi's private opposition, and both of them working together suggest there may be plenty of other House Democrats privately opposed."
Moreover, "other Senate Democrats appear to oppose the proposal but don't want to say so openly," Sargent added. "After all, it's not easy to come down on the side of protecting the wealth of billionaires."

This content originally appeared on Common Dreams - Breaking News & Views for the Progressive Community and was authored by Kenny Stancil.

Print
Share
Comment
Cite
Upload
Translate
APA
Kenny Stancil | Just another WordPress site (2022-01-29T09:31:54+00:00) » 'Pelosi Absolutely Destroyed' Tax on Billionaires, Says Democratic Insider. Retrieved from https://www.museumpirates.com/2021/10/28/pelosi-absolutely-destroyed-tax-on-billionaires-says-democratic-insider/.
MLA
" » 'Pelosi Absolutely Destroyed' Tax on Billionaires, Says Democratic Insider." Kenny Stancil | Just another WordPress site - Thursday October 28, 2021, https://www.museumpirates.com/2021/10/28/pelosi-absolutely-destroyed-tax-on-billionaires-says-democratic-insider/
HARVARD
Kenny Stancil | Just another WordPress site Thursday October 28, 2021 » 'Pelosi Absolutely Destroyed' Tax on Billionaires, Says Democratic Insider., viewed 2022-01-29T09:31:54+00:00,<https://www.museumpirates.com/2021/10/28/pelosi-absolutely-destroyed-tax-on-billionaires-says-democratic-insider/>
VANCOUVER
Kenny Stancil | Just another WordPress site - » 'Pelosi Absolutely Destroyed' Tax on Billionaires, Says Democratic Insider. [Internet]. [Accessed 2022-01-29T09:31:54+00:00]. Available from: https://www.museumpirates.com/2021/10/28/pelosi-absolutely-destroyed-tax-on-billionaires-says-democratic-insider/
CHICAGO
" » 'Pelosi Absolutely Destroyed' Tax on Billionaires, Says Democratic Insider." Kenny Stancil | Just another WordPress site - Accessed 2022-01-29T09:31:54+00:00. https://www.museumpirates.com/2021/10/28/pelosi-absolutely-destroyed-tax-on-billionaires-says-democratic-insider/
IEEE
" » 'Pelosi Absolutely Destroyed' Tax on Billionaires, Says Democratic Insider." Kenny Stancil | Just another WordPress site [Online]. Available: https://www.museumpirates.com/2021/10/28/pelosi-absolutely-destroyed-tax-on-billionaires-says-democratic-insider/. [Accessed: 2022-01-29T09:31:54+00:00]
rf:citation
» 'Pelosi Absolutely Destroyed' Tax on Billionaires, Says Democratic Insider | Kenny Stancil | Just another WordPress site | https://www.museumpirates.com/2021/10/28/pelosi-absolutely-destroyed-tax-on-billionaires-says-democratic-insider/ | 2022-01-29T09:31:54+00:00
https://github.com/addpipe/simple-recorderjs-demo