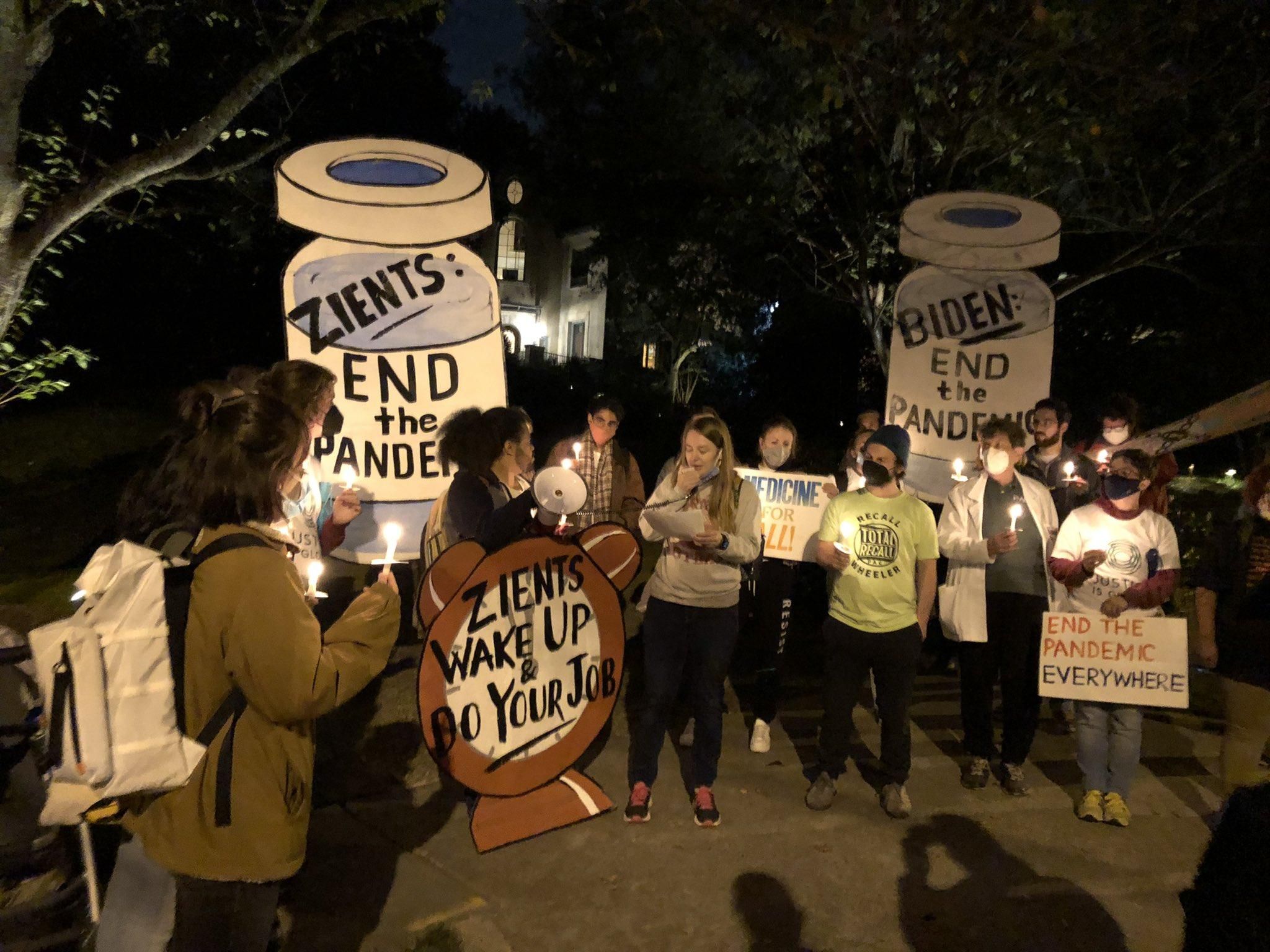 A group of social justice advocates staged an overnight vigil Thursday into Friday outside the home of top White House coronavirus official Jeff Zients urging the Biden administration to take greater actions to "vaccinate the world."
"We rallied today, we marched, we spoke, and we visited Jeff Zients to make it clear to this administration that this pandemic will not end until we take global action," said Vinay Krishnan, Center for Popular Democracy Action's national field organizer, in a statement.
"Let's lift patents," he said, "and invest in the manufacturing capacity needed to end Covid in every country, in every community."
The action outside the home of White House Coronavirus Response Coordinator Zients was led by Justice is Global, a project of People's Action.
Holding signs with messages including "End the pandemic everywhere" and "Zients, wake up and do your job," the protesters drew attention to the global lives lost from Covid-19 and called for the administration to use its power to help push through a proposed intellectual property protections waiver for Covid vaccines and technology that other rich nations continue to block at the World Trade Organization.
The group also delivered a letter to Zients in which they urged him to harness his role as the official coronavirus response coordinator "to take the crucial actions needed" to enact the policies they say will help bring an end to the pandemic.
In addition to trying to push through the IP waiver, "the White House must also reexamine its decision to not share the technical recipe and process information that would be needed for expanded production and use existing power under the Defense Production Act to ensure we transfer all Covid-19 technologies including diagnostics and therapeutics," the letter states.
The group also said Biden "must support congressional efforts to appropriate $35 billion to fund global manufacturing hubs, including but not limited to the $2 billion included in the proposed reconciliation budget process."
Justice is Global deputy director Ben Levenson said in a statement that the activists " brought this global health crisis straight to Jeffrey Zients's front door because he and the Biden administration refuse to use the available tools to massively scale up production while millions of people in low- and middle-income countries wait for vaccines."
"We've tried every tactic to advance our policy goals, and yet the administration continues to pad Big Pharma's record profits instead of ending the pandemic," he added. "This is shameful, and we hope our actions are just the wake-up call the administration needs to finally act and vaccinate the world."
The overnight action followed a Washington, D.C. rally staged earlier Thursday by groups including Justice is Global and People's Action that made similar demands of the Biden administration.
"We hear of people throwing out vaccines," human rights advocate Pauline Muchina said at the rally. "How many vaccines have been destroyed instead of shared around the world? It is time to end vaccines apartheid!"

This content originally appeared on Common Dreams - Breaking News & Views for the Progressive Community and was authored by Andrea Germanos.

Print
Share
Comment
Cite
Upload
Translate
APA
Andrea Germanos | Just another WordPress site (2022-01-19T19:13:43+00:00) » 'End the Pandemic… Share the Vaccines!': All-Night Vigil Held Outside House of Top Biden Covid-19 Official. Retrieved from https://www.museumpirates.com/2021/10/29/end-the-pandemic-share-the-vaccines-all-night-vigil-held-outside-house-of-top-biden-covid-19-official/.
MLA
" » 'End the Pandemic… Share the Vaccines!': All-Night Vigil Held Outside House of Top Biden Covid-19 Official." Andrea Germanos | Just another WordPress site - Friday October 29, 2021, https://www.museumpirates.com/2021/10/29/end-the-pandemic-share-the-vaccines-all-night-vigil-held-outside-house-of-top-biden-covid-19-official/
HARVARD
Andrea Germanos | Just another WordPress site Friday October 29, 2021 » 'End the Pandemic… Share the Vaccines!': All-Night Vigil Held Outside House of Top Biden Covid-19 Official., viewed 2022-01-19T19:13:43+00:00,<https://www.museumpirates.com/2021/10/29/end-the-pandemic-share-the-vaccines-all-night-vigil-held-outside-house-of-top-biden-covid-19-official/>
VANCOUVER
Andrea Germanos | Just another WordPress site - » 'End the Pandemic… Share the Vaccines!': All-Night Vigil Held Outside House of Top Biden Covid-19 Official. [Internet]. [Accessed 2022-01-19T19:13:43+00:00]. Available from: https://www.museumpirates.com/2021/10/29/end-the-pandemic-share-the-vaccines-all-night-vigil-held-outside-house-of-top-biden-covid-19-official/
CHICAGO
" » 'End the Pandemic… Share the Vaccines!': All-Night Vigil Held Outside House of Top Biden Covid-19 Official." Andrea Germanos | Just another WordPress site - Accessed 2022-01-19T19:13:43+00:00. https://www.museumpirates.com/2021/10/29/end-the-pandemic-share-the-vaccines-all-night-vigil-held-outside-house-of-top-biden-covid-19-official/
IEEE
" » 'End the Pandemic… Share the Vaccines!': All-Night Vigil Held Outside House of Top Biden Covid-19 Official." Andrea Germanos | Just another WordPress site [Online]. Available: https://www.museumpirates.com/2021/10/29/end-the-pandemic-share-the-vaccines-all-night-vigil-held-outside-house-of-top-biden-covid-19-official/. [Accessed: 2022-01-19T19:13:43+00:00]
rf:citation
» 'End the Pandemic… Share the Vaccines!': All-Night Vigil Held Outside House of Top Biden Covid-19 Official | Andrea Germanos | Just another WordPress site | https://www.museumpirates.com/2021/10/29/end-the-pandemic-share-the-vaccines-all-night-vigil-held-outside-house-of-top-biden-covid-19-official/ | 2022-01-19T19:13:43+00:00
https://github.com/addpipe/simple-recorderjs-demo